Meet The Family
---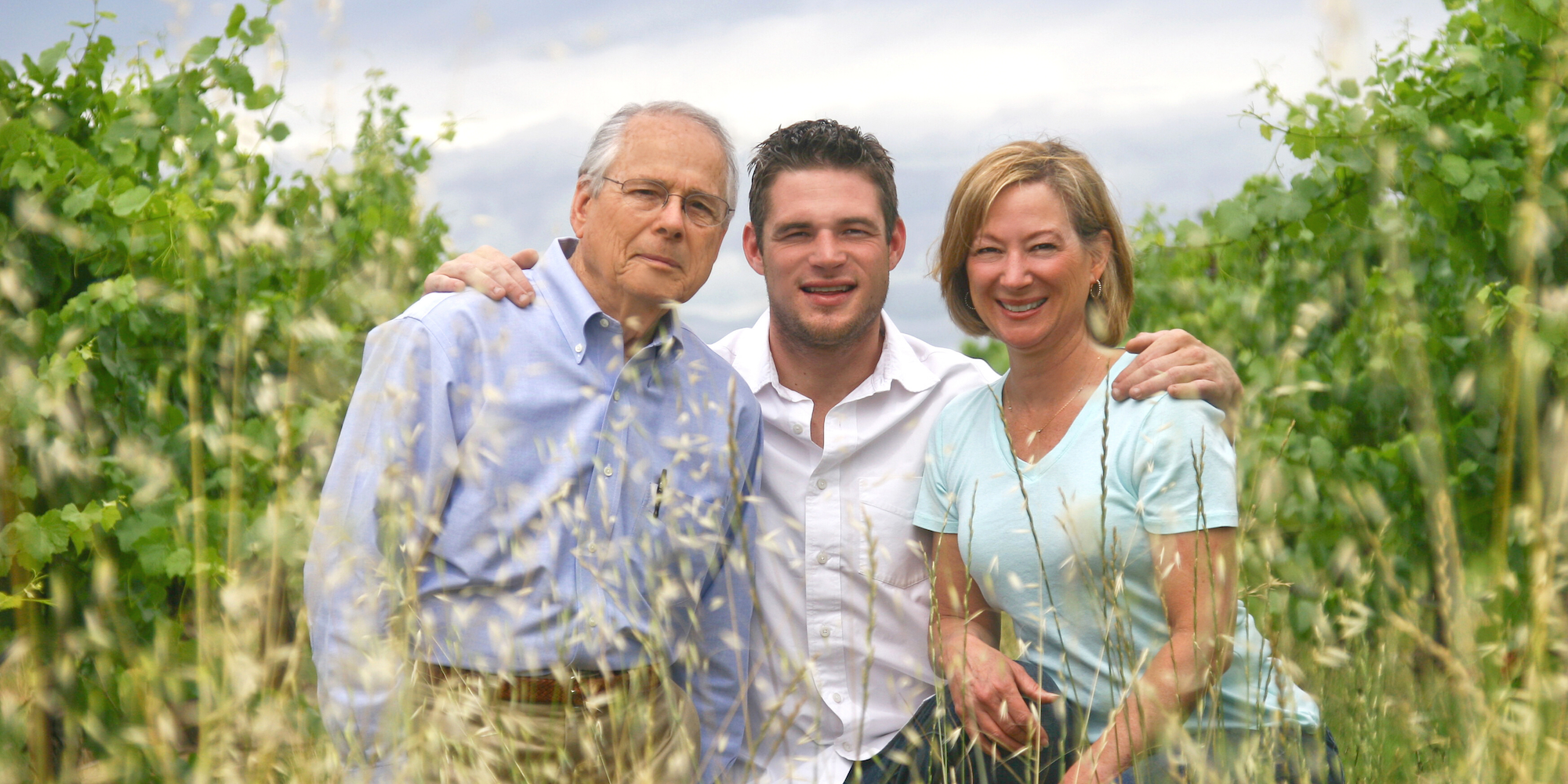 Three generations of Burlingtons in a family vineyard on Peltier Road in Lodi Wine Country, California.
(From left to right: Bruce Burlington, Dave Chandler, Jan Chandler)

Mark and Jan Chandler are well known as one of "the power couples of Lodi wine." Mark played a pivotal role in Lodi's rise to a premium wine destination as Executive Director of the Lodi Winegrape Commission and has earned many accolades from his decades of leadership in the CA wine industry. He is currently Chief Judge at the California State Fair Wine Competition and was recently elected to his third term as Mayor of Lodi. Jan is a third-generation Lodi viticulturist and owner of San Joaquin Sulphur Company, Lodi's premier boutique agricultural supplier that has been owned by the Burlington family and served local vineyardists since 1957.
Jan and Mark currently farm 120 acres of winegrapes in the Lodi appellation and have made wines from their vineyards for family and friends for the last twenty years. Met with a consistently positive market response, they decided to launch Burlington Chandler Wine in 2017. Jan and Mark's two adult children, Dave and Laura, are also active in the vineyards and winery. Together, they are now producing award-winning wines under the Burlington Chandler label.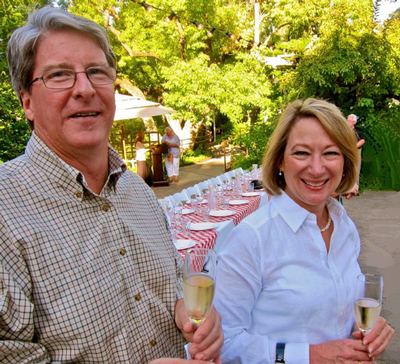 Mark and Jan Chandler relax at an industry event.
Mark Chandler
Partner, Burlington Chandler Wines
Mark holds a B.Sc. in Agricultural Business Management from Cal Poly, San Luis Obispo. He is also a graduate of the esteemed California Agricultural Leadership Program. His 40-year career in wine includes winemaking, marketing, wine education and association management. He is best known for his 20 years as CEO of the Lodi Winegrape Commission, where he launched Lodi wine into the modern era. He is a Certified Specialist of Wine (CSW) through the Society of Wine Educators, of which he is past president. He was named Sunset Magazine's Wine Professional of the Year 2005, was among the "Top 50 California Wine Leaders" by Wine Business Magazine, and was recently picked among the Top 100 Most Influential People in US Wine. He judges at numerous wine competitions, and since 2015 he has served as Chief Judge of the CA State Fair Wine Competition.
"My life in wine has been like a magic carpet ride – great wines, wonderful lands, working with talented, fun people. Now Jan and I are excited to share that world with our customers through wines from our own vineyards."
Email: mark@burlingtonchandlerwine


Jan Chandler
Partner, Burlington Chandler Wines
Jan is President of San Joaquin Sulphur Co., a family business in Lodi which has served local winegrape, nut and tree fruit growers for 3 generations. Jan has a long abiding interest in food and wine and is an accomplished home chef. She and husband Mark, plus an assortment of siblings and cousins, enjoy an annual cycling/food/wine trip to Europe each year. She is a graduate of "John B's" (Beuchenstein) Advanced Wine Appreciation Course at UC Davis and Certified CA State Fair Wine Judge.

An avid and lifelong community supporter, she is a member of Rotary and active in multiple local charities. Jan is past president of Lodi Memorial Hospital Foundation and currently serves as CFO. A proud Gonzaga University graduate, one of her favorite months of the year is March Madness, when her stalwart Bulldogs fight their way to the Final Four. "Our day will come," is her motto.
Email: jan@burlingtonchandlerwine
David Burlington Chandler
Director of Marketing
With both parents deeply committed to food, wine, and viticulture, Dave's passion for the same was instilled and nurtured from an early age. He began working for his mother and grandfather at the San Joaquin Sulphur Company as a teenager and spent his college Summers learning commercial winemaking at Van Ruiten Family Winery. Today, the experience he's gained through positions in tasting rooms and related to direct sales, marketing, and boutique wine production is applied to his current role as Picked & Recommendations Team Lead with Wine.com.
A devoted epicure and Eagle Scout, Dave resides with his wife and son on California's scenic Central Coast between Monterey and Santa Cruz Counties but makes frequent trips back home to help his parents with their wines and vines.
Email: dave@burlingtonchandlerwine


Laura Bradford Brown
Director of Sales (Northwest)
Born and raised in Lodi Wine Country, Laura's adventurous spirit and love of the outdoors drew her to the Pacific Northwest after high school where she attended her Mother's Alma Mater, Gonzaga University. Inspired by the passion for public service modeled by her parents and exemplified by the pelican in her piety adorning our family crest, she pursued a graduate degree in social work and began a career in nonprofit leadership and higher education. She currently serves as National Director of Patient Services for The Leukemia & Lymphoma Society and an Adjunct Professor for graduate level social work courses at Boise State University, where she resides.
Laura and her husband, Shawn, enjoy spending their free time expanding their food & wine knowledge by sipping and noshing their way around blossoming wines scenes like their local Snake River AVA!
The Story Behind Our Label
---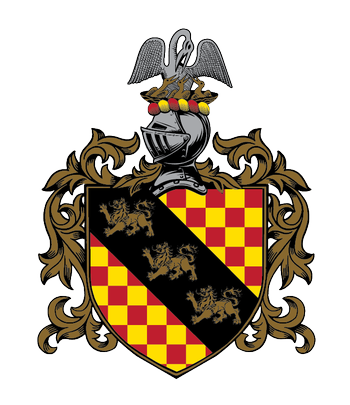 Families of European descent have used coats of arms to distinguish and differentiate themselves in society for well over a thousand years. The colorful animals and curious symbols depicted on heraldic devices record ancestral feats of martial valor and achievements in loyal service to the church or crown. These badges were passed down through generations and became codified in the early middle ages as they were employed to seal official documents in much the same way as a modern trademark or signature.

Today, our family's arms transcend their antiquity to serve as relevant icons for the values we practice and wines we produce. The lions guardant emblazoned on our shield act as warrants for the captivating juxtaposition of power and elegance apparent in each cuvee, while the pelican in her piety adorning our crest models the virtues of civic engagement and self-sacrifice which continue to guide us in our daily lives. We're proud to have this enduring relic of our English heritage act as a guarantee for the quality and authenticity of each bottle that bears this mark.